Headlight lamp OSRAM H7 64210ULT-HCB Ultra life (2 pcs.)
Headlight lamp OSRAM H7 64210ULT-HCB Ultra life (2 pcs.)
Product Reference: LEMP-64210U2
Manufacturer: Osram
Availability date:

Headlight lamp OSRAM H7 Ultra life (4 year OSRAM warranty)
Yra parduotuvėse
Nėra parduotuvėse
Product Description

Lamps and lighting systems from OSRAM provide the basis for a beautiful view of things, ensure safety and comfort, allowing for the efficient use of resources. For more than 100 years, OSRAM has been "passionate about intelligent light". As a globally operating company, we also explicitly encourage socially and environmentally responsible policies around the world - as well as sponsoring art and culture at home and abroad.
OSRAM is one of the two leading light manufacturers in the world. The company's portfolio covers the entire value chain from components to electronic control gears as well as complete luminaires, light management systems and lighting solutions.
Product benefits:
OSRAM ULTRA LIFE automotive lamps are a favorite when it comes to durability. They have an impressive lifespan up to four times longer compared to standard halogen lamps and last up to 100,000 km (with an average annual mileage of 14,259 km and 60% light on). OSRAM provides a 4 year guarantee for the reliable ULTRA LIFE headlight lamps (fourth year with online registration, www.osram.com/am-guarantee). In addition to this, ULTRA LIFE headlight lamps have a modern design with silver cap (H4/H7/H11). They are therefore ideal for frequent drivers or people who use daytime running lights, and can also be used in clear-glass headlights.
Areas of application - Headlight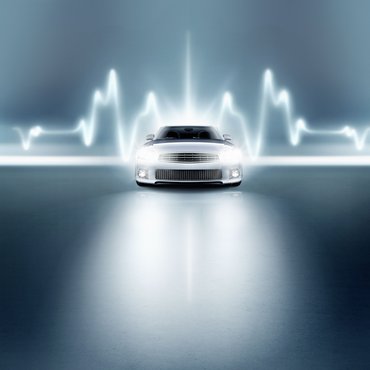 Product specification
| | |
| --- | --- |
| Base | PX26d |
| Type | H7 |
| Voltage (V) | 12V |
| Power | 55W |
| Manufacturer | OSRAM |
| Manufacturer code | Osram 64210ULT |
| Warranty | 36 month OSRAM warranty (not commercial use) |
| Additional warranty | total up to 48 month OSRAM warranty (there are additional conditions) |
| Shipping in Lithuania | 2-5 working days |
| Shipping in Latvia | 3-5 working days |
| Shipping in Estonia | 3-7 working days |
| Shipping in Poland | 5-7 working days |