McGard 27186 SU (kit)
McGard 27186 SU (kit)
Product Reference: DK-MC-27186SU
Manufacturer: McGard
Availability date:

Special wheel bolts McGard 27186 SU (kit)
Yra parduotuvėse
Nėra parduotuvėse
Product Description

McGard produces the highest quality products at the most reasonable cost to meet our customers' needs. We strive to continually improve ourselves and our products while targeting our 'zero defects' goal.
McGard is a manufacturer of high quality security products, wheel locks and chrome plated lug nuts. Our customers include some of the finest North American, Japanese and European automotive manufacturers, as well as government agencies, the military, municipalities, and the fuel industry. Since 1966, McGard has become known for its unique product designs and comprehensive service programs in these and other areas where security and safety are top priorities. Consistent high quality that insures the greatest value for our customers is the foundation of our business, and is evident in every McGard product on the market today.
Quality & Security
A company-wide quality program, called the McGard Quality System (MQS), was developed specifically to meet the requirements of our business and our customers. A major ingredient of MQS is that every employee is responsible for the end quality of our product. In addition, the Quality Assurance Department is trained and knowledgeable of industry requirements and is capable of providing all documentation for initial sample review, production, and post-production support. They are solely committed to maintaining quality throughout the life of the product, and are experienced in problem prevention, analysis and solution techniques. The department is sufficiently staffed to insure total care, attention to detail and high quality levels.
Over the years we've received dozens of quality awards from car companies the world over. McGard Headquarters in the U.S.A. is now ISO/TS 16949 certified which encompasses and exceeds the elements of the ISO 9000 and 9001 certifications McGard previously attained. We're also concerned about our environment and our Environmental Management System is conformance with ISO 14001:2004.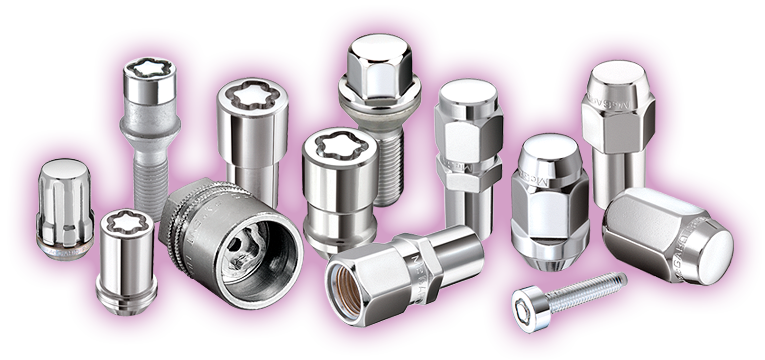 Product specification
| | |
| --- | --- |
| Threads | 12 x 1.75 |
| Manufacturer | McGard |
| Manufacturer code | McGard 27186 SU |
| Sheft length | 29.0 |
| Seat | 60°/cone seat |
| Overall length | 54.1 |
| Key diameter | 19 |
| Purpose (customization) | McGard special wheel bolts and nuts |
| Shipping in Lithuania | 1-3 working days |
| Shipping in Latvia | 2-5 working days |
| Shipping in Estonia | 3-5 working days |
| Shipping in Poland | 3-5 working days |