YUASA EN/ENL series 12V AGM VRLA batteries
YUASA EN/ENL series 12V AGM VRLA batteries
Product Reference: YUASA-EN-ENL-12V
Manufacturer: Yuasa
Availability date:

Yra parduotuvėse
Nėra parduotuvėse
Product Description
YUASA are the world leader in lead acid battery design and manufacture!!!

VRLA (Valve Regulated Lead-Acid) batteries
EN & ENL series
Suitable for all standby applications including Telecommunications, UPS, Emergency Lighting. Endurance range Batteries from Yuasa are the engineer's choice for even the most critical standby applications, available in 10 year (EN) and 15 year (ENL) models.

Features
Long Life in standby (10 and 15 year design life options).
Unique mix and match parallel assembly allows extensive variations to network capacity.
Electrolyte Suspension. A.G.M. technology assures no free electrolyte to spill or worry about.
High gas recombination efficiency. Eliminates the need for forced ventilation and separate battery rooms.
Case Material Oxygen index 30.
Fully compliant with BS6290-4 and IEC896-2.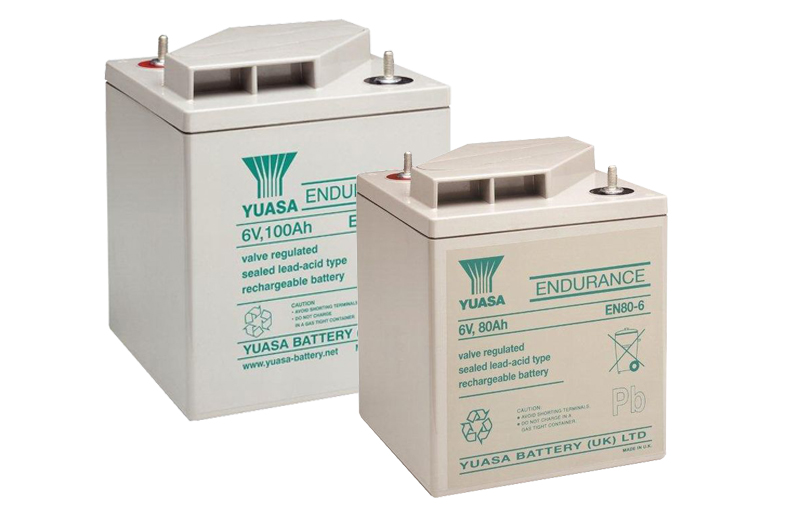 Product specification
| | |
| --- | --- |
| Capacity (Ah) | 100Ah |
| Voltage (V) | 12V |
| Battery type | VRLA (AGM) |
| Manufacturer | YUASA |
| Manufacturer code | YUASA EN/ENL series (12V) |
| Warranty | 12 month |
| Shipping in Lithuania | Please ask (special order) |
| Shipping in Latvia | Please ask (special order) |
| Shipping in Estonia | Please ask (special order) |
| Shipping in Poland | Please ask (special order) |