intAct 72512 SHD 225Ah 1150A (EN) battery
intAct 72512 SHD 225Ah 1150A (EN) battery
Product Reference: INT-72512SHD
Manufacturer: Intact (Vokietija)
Availability date:

Yra parduotuvėse
Nėra parduotuvėse
Product Description


intAct - Germany has a well-known brand, emphasizing the exceptional reputation and image of the workability of the battery.
intAct Start Power (New Generation) SHD batteries
The intAct Start-Power batteries are impressive with their perfect price-performance ratio as well as a complete product line.
Start-Power batteries are available filled and charged (calcium/calcium technology).
Use of select materials and special alloys result in superior capacity performance as well as extreme high current capability of the intAct Start-Power series.
intAct Start-Power batteries are used in all passenger cars, trucks and agricultural machinery. Our intAct Start-Power batteries are also used by a number of original equipment manufacturers and construction equipment manufacturers.
Intact Start Power SHD batteries ideal for every day.
Recent SHD batteries is the right choice for modern heavy-duty trucks and buses. Powerful, maintenance free, reliable battery types under harsh conditions every day ..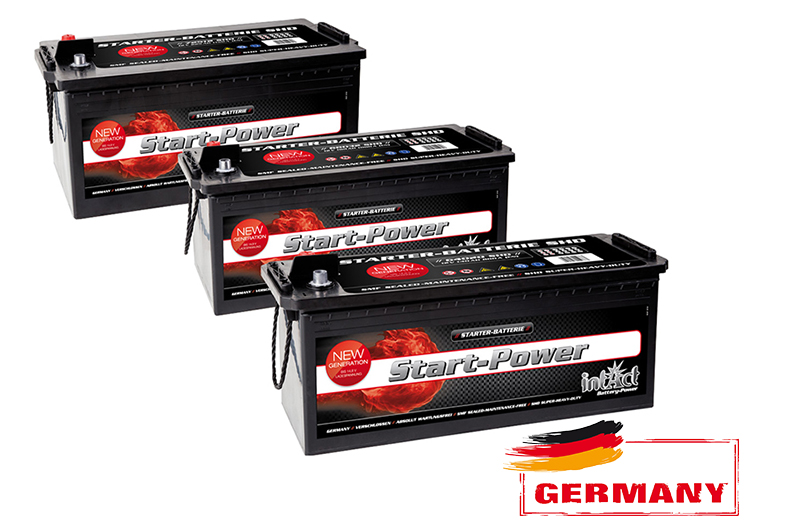 Product specification
| | |
| --- | --- |
| Capacity (Ah) | 225Ah |
| Starting current | 1150A (EN) |
| Voltage (V) | 12V |
| Battery type | Super Heavy Duty |
| Box size | C (~518x273x242) |
| Replacement | C-SHD |
| Length (mm) | 518 |
| Width (mm) | 276 |
| Height (mm) | 240 |
| Manufacturer | INTACT (Germany) |
| Manufacturer code | IntAct 72512 SHD |
| Terminal type | AP (SAE) automotive |
| Warranty | 12 month |
| Shipping in Lithuania | 2-5 working days |
| Shipping in Latvia | 3-5 working days |
| Shipping in Estonia | 3-7 working days |
| Shipping in Poland | 5-7 working days |