DETA DA640 64Ah battery
DETA DA640 64Ah battery
Product Reference: DETA-DA640
Manufacturer: Deta
Availability date:

DETA SENATOR 3 batteries are made using the technology of calcium-calcium according highest quality standards: ISO 9001, ISO 2000, VDA 6.1.
Yra parduotuvėse
Nėra parduotuvėse
Product Description

DETA batteries have been manufactured for more than 60 years
DETA is one of the best-known battery manufacturers in Germany. DETA batteries always where famous for their German quality. In 1997 DETA battery manufacturers joined the EXIDE group, however, it remainsone of the most famous and powerful EXIDE Group's unit in Germany. A wide range of DETA batteries allows them to be used in various types of European and Japanese cars, trucks, motorcycles and various agricultural machinery.
DETA batteries are produced with an increased resistance to vibrations. Therefore, they are suitable for operation in extreme operating conditions. Plates are manufactured using Expanded metal and Continuous casting technology. Using this technology increases the starting current of the battery, the cover ensures liquid recirculation. All of this prolongs the usage of the battery. Batteries have charge indicators installed, which allows to determine state of charge and electrolyte level. All DETA batteries, including STANDARD, POWER and SENATOR are manufactured using calcium technology. DETA batteries meet the highest quality standards: ISO 9001, ISO 2000, VDA 6.1.
Features:
Calcium-Calcium technology,
Central ventilation,
Completely maintenance free,
Suitable for modern vehicles with standard equipment.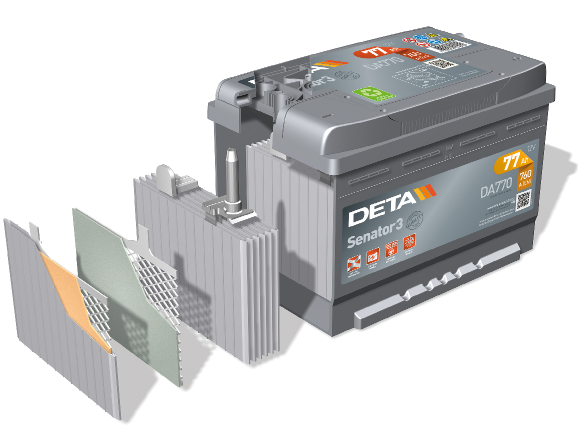 Product specification
| | |
| --- | --- |
| Capacity (Ah) | 64Ah |
| Starting current | 640A (EN) |
| Voltage (V) | 12V |
| Battery type | Maintenance free |
| Box size | L2 (~242x175x190) |
| Replacement | L2-PREMIUM |
| Length (mm) | 246 |
| Width (mm) | 175 |
| Height (mm) | 190 |
| Manufacturer | DETA |
| Manufacturer code | Deta DA640 |
| Polarity | -- + |
| Terminal type | AP (SAE) automotive |
| Warranty | 24 month |
| Shipping in Lithuania | 2-5 working days |
| Shipping in Latvia | 3-5 working days |
| Shipping in Estonia | 3-7 working days |
| Shipping in Poland | 5-7 working days |