intAct 06TP210 Traction Power PZS 270Ah battery
intAct 06TP210 Traction Power PZS 270Ah battery
Product Reference: INT-06TP210
Manufacturer: Intact (Vokietija)
Availability date:

intAct Traction PZS deep-cycle batterieswith positive tubular plates for multi-purpose machinery - electric floor cleaning machines, lifting platforms, construction, commercial transportation, etc.
Yra parduotuvėse
Nėra parduotuvėse
Product Description



intAct - Germany has a well-known brand, emphasizing the exceptional reputation and image of the workability of the battery.
intAct TRACTION POWER PZS
The intAct Traction-Power/PZS series batteries are also suitable for use in a rough environment, especially for golf carts, cleaning equipment, mobile lifting platforms, electric lifting trucks as well as many other traction applications.
The armour plate/tubular plate battery design results in superior stability and strength. As your partner for system solutions, we also offer the suitable chargers for recharging the sealed lead/acid batteries.
intAct TRACTION POWER PZS series battery have 1200 cycles according to IEC 254-1 at 75% DOD. TRACTION POWER PZS battery series adapted as severe cyclical work and also to power supply.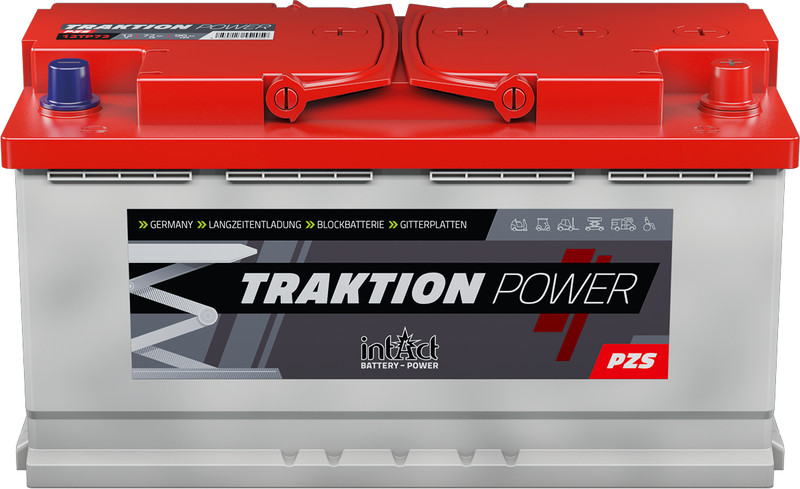 Product specification
| | |
| --- | --- |
| Capacity (Ah) | 210Ah (C5) / 270Ah (C20) |
| Voltage (V) | 6V |
| Battery type | Deep cycle (liquid electrolyte) |
| Number of cycles | 1200 cycles to 75% DOD (IEC 254-1) |
| Box size | DIN (~244x190x275) |
| Replacement | DIN-TUBULAR |
| Length (mm) | 244 |
| Width (mm) | 190 |
| Height (mm) | 275 |
| Weight (kg) | 33.0 |
| Manufacturer | INTACT (Germany) |
| Manufacturer code | intAct 6TP210 |
| Terminal type | AP (SAE) automotive |
| Warranty | up to 24 month |
| Shipping in Lithuania | Please ask (special order) |
| Shipping in Latvia | Please ask (special order) |
| Shipping in Estonia | Please ask (special order) |
| Shipping in Poland | Please ask (special order) |