YUASA YBX9020 105Ah AGM battery
YUASA YBX9020 105Ah AGM battery
Product Reference: YUASA-YX9020
Manufacturer: Yuasa
Availability date:

YUASA YBX9020 AGM YUASA BATTERY FINDER
YUASA YBX9000 START STOP PLUS AGM (Absorbent Glass Mat) technology batteries. Ideal for vehicles with Start-Stop system, although widely used in ordinary cars
Yra parduotuvėse
Nėra parduotuvėse
Product Description
YUASA are the world leader in lead acid battery design and manufacture!!!

YUASA YBX9000 AGM START STOP PLUS batteries

Approximately 360,000 starts,
For high specification Start/Stop vehicles,
Absorbed Glass Mat construction with no free acid,
Double lid (Leak/spill proof),
VRLA,
Integrated flame arrestor,
OE Quality, Performance & Specification.

Performance compared to Conventional Automotive Batteries
+150% improved Dynamic Charge Acceptance (DCA),
+200% increased cyclic durability.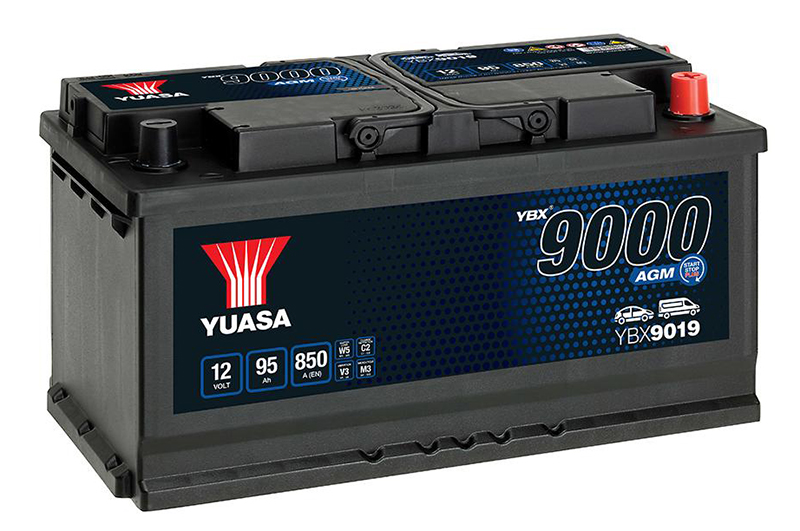 Product specification
| | |
| --- | --- |
| Capacity (Ah) | 105Ah |
| Starting current | 950A (EN) |
| Voltage (V) | 12V |
| Battery type | AGM |
| Box size | L6 (~394x175x190) |
| Replacement | L6-AGM |
| Length (mm) | 395 |
| Width (mm) | 175 |
| Height (mm) | 190 |
| Manufacturer | YUASA |
| Manufacturer code | YUASA YBX9020 |
| Polarity | -- + |
| Terminal type | AP (SAE) automotive |
| Warranty | up to 24 month |
| Shipping in Lithuania | 2-5 working days |
| Shipping in Latvia | 3-5 working days |
| Shipping in Estonia | 3-7 working days |
| Shipping in Poland | 5-7 working days |