YUASA 664SHD CARGO SHD battery
YUASA 664SHD CARGO SHD battery
Product Reference: YUASA-664SHD
Manufacturer: Yuasa
Availability date:

Yra parduotuvėse
Nėra parduotuvėse
Product Description
YUASA are the world leader in lead acid battery design and manufacture!!!

Cargo Super Heavy Duty Batteries (SHD) 
Features:
Advanced plate design,
Increased service life over HD,
Deep cycle capabilities,
Vibration Resistant - V2 (EN50342.1 A1 2011),
OE Quality, Performance & Specification.

Performance - Compared to Conventional Automotive Batteries:
Up to 30% increase in cranking power over Cargo HD*.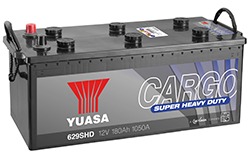 Product specification
| | |
| --- | --- |
| Capacity (Ah) | 115Ah |
| Starting current | 800A (EN) |
| Voltage (V) | 12V |
| Battery type | Super Heavy Duty |
| Box size | LOT7 (~349x173x240) |
| Replacement | L5H-SHD-X |
| Length (mm) | 345 |
| Width (mm) | 172 |
| Height (mm) | 232 |
| Manufacturer | YUASA |
| Manufacturer code | YUASA 664SHD |
| Polarity | + -- |
| Terminal type | AP (SAE) automotive |
| Warranty | 3 month (clearance sale) |
| Shipping in Lithuania | 2-5 working days |
| Shipping in Latvia | 3-5 working days |
| Shipping in Estonia | 3-7 working days |
| Shipping in Poland | 5-7 working days |