DEKA Outdoorsman 522FMF 55Ah battery
DEKA Outdoorsman 522FMF 55Ah battery
Product Reference: DEKA-522FMF
Manufacturer: Deka
Availability date:

DEKA OURDOORSMAN batteries for lawn mowers
Yra parduotuvėse
Nėra parduotuvėse
Product Description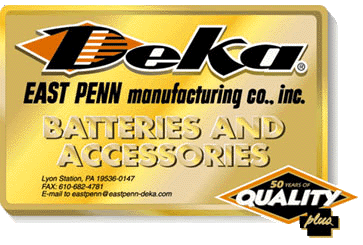 EAST PENN MANUFACTURING CO., INC. (DEKA) is one of the largest and most advanced battery manufacturers in the US and around the world
A Proud Past with a Bright Future. East Penn began as a dream of the Breidegam family. In 1946, DeLight Jr., a young Air Force veteran, started a battery business with his father, DeLight Sr. The location of their business was a small, one-room creamery in the village of Bowers, PA.
Wartime made for scarce battery materials, but there was big demand for rebuilt batteries so returning GIs could get their vehicles running again. DeLight and his father filled that need by collecting old batteries and rebuilding them to new
Transportation Applications. We offer complete battery solutions for all of the transportation applications found below. Each battery line is uniquely designed for the unique demands of each application.
Lawn & Garden.
From the hottest summer to the coldest winter – no other lawn and garden battery provides maintenance-free performance like the rugged Outdoorsman Battery from Deka. Guaranteed Superior Performance. Because East Penn has built more than 250 quality control checks into the manufacturing process, Outdoorsman batteries guarantee superior performance – every time.
DEKA argues that "WE LOOK AT THE BEST TO DO BETTER ... MUCH BETTER!"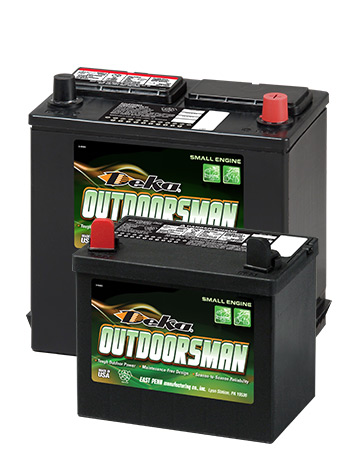 Product specification
| | |
| --- | --- |
| Starting current | 425A (CCA at -18°C) / 540A (MCA at 0°C) |
| Voltage (V) | 12V |
| RC (25Amps) | 65 min. |
| Battery type | Maintenance free |
| Box size | D23 (~230x172x220) |
| Replacement | D23-MEDIUM |
| Length (mm) | 238 |
| Width (mm) | 171 |
| Height (mm) | 210 |
| Weight (kg) | 13.4 |
| Manufacturer | DEKA |
| Manufacturer code | Deka 522FMF Outdoorsman |
| Polarity | -- + |
| Terminal type | AP (SAE) automotive |
| Warranty | 3 month (clearance sale) |
| Shipping in Lithuania | 2-5 working days |
| Shipping in Latvia | 3-5 working days |
| Shipping in Estonia | 3-7 working days |
| Shipping in Poland | 5-7 working days |