DEKA 908DY 245Ah battery
DEKA 908DY 245Ah battery
Product Reference: DEKA-908D
Manufacturer: Deka
Availability date:

DEKA PRECISION BUILT Batteries for commercial vehicles and agricultural equipment with increased starting current
Yra parduotuvėse
Nėra parduotuvėse
Product Description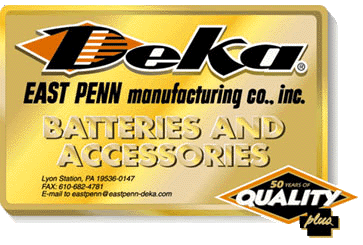 EAST PENN MANUFACTURING CO., INC. (DEKA) is one of the largest and most advanced battery manufacturers in the US and around the world

In 1947, a new partner joined forces with the Breidegam family and a brand was born. Karl Gasche, a former associate of DeLight, Sr. teamed up with the Breidegam's. Karl became vice president of East Penn and remained so until his retirement in 1966. In fact, the name "Deka" is a combination of "DeLight" and "Karl." East Penn is proud to carry on the Deka brand name today – more than six decades after its birth – with new Deka battery products introduced to market every year.
For Power-Demanding Applications
Turn to East Penn for best selection to meet the rigorous demands of commercial starting, cycle service, and deep cycle auxiliary power.

Heavy-Duty Trucks
Our flooded and AGM battery solutions are designed to deliver first-class, heavy-duty power that covers the needs of large fleet operations to individual owner-operators. Our power solutions are so reliable, we like to call them "First Class for all Classes".

Heavy-Duty Buses
East Penn delivers the most trusted products for one the most important transportation services. Our commercial bus batteries not only have power and performance, but are built with the dependability and durability to handle frequent use and multiple stop-and-start situations.

Heavy-Duty Equipment
Earthmovers, dump trucks, crawlers, and other hard working heavy-duty equipment need a battery that's as tough as the jobs these vehicles perform. With maximum reinforcement and power that just won't quit, these batteries will keep the job site working at full force.
Deka Flooded Batteries
Deka flooded batteries offer a reinforced design that is ideal for heavy-duty commercial service. Ideal for commercial buses and heavy-duty equipment.

Features:
Electrical short prevention system protects power-producing components from life-robbing electrical shorts,
Rugged, vibration-resistant internal design withstands heavy-duty use,
Maintenance-free or maintenance-accessible designs maximizes convenience while minimizing water loss for extended operation,
Commercial-tough polypropylene case and cover resist breakage to protect equipment and extend service life.
DEKA argues that "WE LOOK AT THE BEST TO DO BETTER ... MUCH BETTER!"
Product specification
| | |
| --- | --- |
| Capacity (Ah) | 245Ah |
| Starting current | 1400A (CCA at -18°C) / 1700A (MCA at 0°C) |
| Voltage (V) | 12V |
| RC (25Amps) | 430 min. |
| Battery type | Maintenance free |
| Box size | 8D (~527x283x250) BCI |
| Replacement | BCI-8D-SHD |
| Length (mm) | 527 |
| Width (mm) | 279 |
| Height (mm) | 254 |
| Weight (kg) | 60.0 |
| Manufacturer | DEKA |
| Manufacturer code | Deka 908DY |
| Terminal type | AP (SAE) automotive |
| Warranty | 3 month (clearance sale) |
| Shipping in Lithuania | 2-5 working days |
| Shipping in Latvia | 3-5 working days |
| Shipping in Estonia | 3-7 working days |
| Shipping in Poland | 5-7 working days |