YUASA YBX3054 36Ah 330A (EN) battery
YUASA YBX3054 36Ah 330A (EN) battery
Product Reference: YUASA-YX3054
Manufacturer: Yuasa
Availability date:

YUASA YBX3054 SMF YUASA BATTERY FINDER
YUASA YBX5000 Silver High Performace SMF batteries are made using calcium technology and meet the highest quality standards: ISO 9001, ISO 2000, VDA 6.1.
Yra parduotuvėse
Nėra parduotuvėse
Product Description
YUASA are the world leader in lead acid battery design and manufacture!!!

YUASA YBX3000 SMF batteries
Features:
Approximately 30,000 starts,
Sealed tip/tilt double lid,
Reduces water loss by up to 30%,
VDA roll over test compliant*,
Calcium/Calcium plates,
State of Charge Indicator (SOCI),
Integrated carrying handle & flame arrestor,
OE Quality, Performance & Specification.

Performance
Up to 20% increase in cranking power**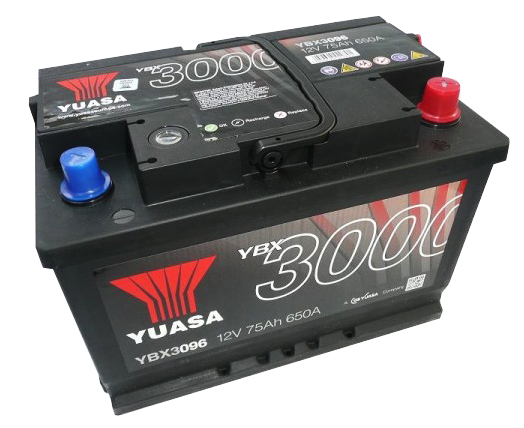 Product specification
| | |
| --- | --- |
| Capacity (Ah) | 36Ah |
| Starting current | 330A (EN) |
| Voltage (V) | 12V |
| Battery type | Maintenance free |
| Box size | B19 (~187x127x220) |
| Replacement | B19-MEDIUM |
| Length (mm) | 187 |
| Width (mm) | 127 |
| Height (mm) | 223 |
| Manufacturer | YUASA |
| Manufacturer code | YUASA YBX3054 |
| Polarity | -- + |
| Terminal type | AP (SAE) automotive |
| Warranty | 24 month |
| Shipping in Lithuania | 2-5 working days |
| Shipping in Latvia | 3-5 working days |
| Shipping in Estonia | 3-7 working days |
| Shipping in Poland | 5-7 working days |