RELION RB10 12.8V 10Ah Lithium Ion deep cycle battery
RELION RB10 12.8V 10Ah Lithium Ion deep cycle battery
Product Reference: REL-RB010
Manufacturer: Relion
Availability date:

Yra parduotuvėse
Nėra parduotuvėse
Product Description

RELION – POWERED BY CAROLINA ENERGY DISTRIBUTORS
CONTINUING OUR DEDICATION TO CUSTOMER SERVICE
RELiON, powered by Carolina Energy Distributors, is the best source for all of your lithium battery needs.
Since 1992, Carolina Energy Distributors have been serving the battery industry with products and top-notch customer service. RELiON is the next step in Carolina Energy Distributors' dedication to innovation and powering their customers' adventures. This new company, focused on lithium-ion distribution, was created to meet customers' energy needs with a green product.
Since lithium-ion batteries are the new horizon for green energy, Carolina Energy Distributors are powering RELiON, the largest lithium-ion distributor in North America.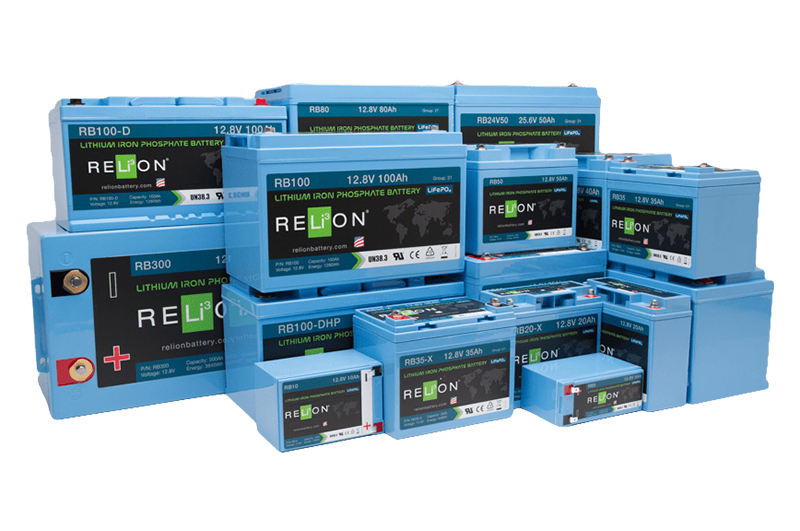 Product specification
| | |
| --- | --- |
| Capacity (Ah) | 10Ah |
| Capacity (Wh) | 128Wh |
| Voltage (V) | 12V |
| Battery type | Lithium Ion deep cycle |
| Number of cycles | ≥ 4500 cycles at 80% DOD |
| Box size | SLA 12-12 (~151x98x101) |
| Replacement | 6-LFM-12 |
| Length (mm) | 151 |
| Width (mm) | 98.0 |
| Height (mm) | 101 |
| Weight (kg) | 1.7 |
| Charging current | 10A (max) |
| Manufacturer | RELION |
| Manufacturer code | Relion RB10 |
| Polarity | At the end |
| IP rating | IP56 (water proof) |
| Warranty | 6 month |
| Shipping in Lithuania | Please ask (special order) |
| Shipping in Latvia | Please ask (special order) |
| Shipping in Estonia | Please ask (special order) |
| Shipping in Poland | Please ask (special order) |